Mechanical Concrete Pulverizer
Product Detail
Product Fits
Product Tags
Mechanical pulverizer is a type of machine that crushes demolished material between one fixed and the other moving jaw to reduce the particle size and to separate iron from other material.
Fits 1 to 50-ton excavators (Could be larger for customized).
Characteristic:
Rotating demolition pulverizers are constructed from heavy-duty steel that offers durability and strength which could be relied on.
Application:
With a streamlined design and powerful rotation capability, a mechanical pulverizer is the most reliable and effective tool for primary demolition and recycling of reinforced concrete structures.
a. Scrapping
b. Demolition
c. C&D processing
d. Concrete recycling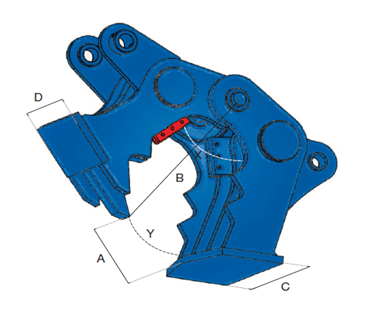 Mechanical  Pulverizer

Model

RSMP-01

RSMP-02

RSMP-03

RSMP-04

RSMP-05

RSMP-06

Application Excavator (ton)

5-10

10-15

15-25

25-36

36-48

48-65

Weight(kg)

600

850

1450

1600

2000

2800

A(mm)

550

715

915

1050

1200

1360

B(mm)

580

690

770

810

880

1050

C(mm)

450

550

660

660

700

800

D(mm)

325

425

460

460

540

640

   

140

200

200

200

200

250

X(t)

55/75

70/105

90/135

120/180

160/225

195/300

T(t)

20/27

27/35

35/45

45/60

55/75

70/100
---
Previous:
Rotating Screening Bucket
---
| | |
| --- | --- |
| BRAND | MODELS |
| CASE | CX130, CX130B, CX135SR, CX17B, CX160B, CX210B, CX225SR, CX240B, CX27B, CX290B, CX31B, CX330B, CX350B, CX36B, CX460, CX50B, CX75SR, CX80, 9050B, CX31B, C, 36B, CX25, CX31, CX36 |
| HITACHI | EX27, EX35, EX100, EX120, EX130, EX135, EX200, EX210, EX220, EX230, EX300, EX370, EX400, EX550, EX55UR-3, EX58, EX60-1, EX700, EX750, EX75, EX80U, EX90, ZX110, ZX120, ZX135US, ZX140W-3, ZX160, ZX17U-2, ZX180LC-3, ZX200, ZX210, ZX225, ZX230, ZX240LC-3, ZX250LC-3, ZX270, ZX30-U2, ZX330, ZX35U, ZX40U, ZX400-3, ZX450-3, ZX50-2, ZX50U-2, ZX60, ZX600, ZX650-3, ZX60USB-3F, ZX70, ZX70-3, ZX75US, ZX80, ZX80LCK, ZX800, ZX850-3 |
| JCB | 2CX, 3C, 3CX, 4CX, 8018, JCB8040 |
| JOHN DEERE | JD120, JD160, JD200, JD240, JD270, JD315SJ, JD330 |
| KOMATSU | PC10, PC100, PC110R, PC120, PC1250, PC130, PC135, PC138, PC150-5, PC160, PC200, PC220, PC228US, PC270, PC300, PC360, PC400, PC450, PC550, PC650, PC1000, PC1200 |
| KUBOTA | KU45, KX-O40, KX080-3, KX101, KX121, KX151, KX161, KX41, KX61, KX71-2, KX91, KX61-2S, KX91-3S |
| CATERPILLAR | 302.5C, 303, 304, 305, 307, 308, 311, 312, 314, 315, 320, 322, 324DL, 325, 328D, 329D, 330, 330B, 330C, 330D, 330E, 330GL, 336D, 345, 345CL, 345F, 350, 416, 420, 428 |
| DAEWOO | S015, S035, S130, S140, S175, S180, S210, S220, S225, S280, S290, S300, S320, S330, S340LC-V, S35, S370LC-, S400 |
| DOOSAN | DX27, DX35, DX140, DX140W, DX180LC, DX225LC, DX255LC, DX300, DX340LC, DX420LC, DX480LC, DX520LC, DX55/60R, DX80 |
| HYUNDAI | R110-7, R120W, R130, R140, R145, R15, R16, R160, R170, R180, R200, R210, R220LC, R235, R250, R280R290, R320, R35, R350, R360, R380, R420, R450LC, R480LC-9, R500, R520, R55, R60CR-9, R75-5, R80 |
| KOBELCO | SK025, SK027, SK030, SK032, SK035, SK040, SK045, SK050, SK070, SK075, SK100, SK120, SK125, SK135, SK140, SK170, SK200, SK210, SK220, SK225SR-2, SK235SRLC, SK250, SK300, SK30, SK320, SK330, SK350, SK400, SK480 |
| LIEBHERR | 922,924 |
| SAMSUNG | SE130LC, SE200, SE210LC, SE280LC, SE350LC |
| SUMITOMO | SH120, SH125X-3, SH135X, SH160-5, SH200, SH210, SH220, SH225, SH240, SH300, SH450 |
| VOLVO | EC140, EC145C, EC160, EC180C, EC210, EC240, EC290, EC330, EC360, EC460, EC55, EC88, ECR58, ECR88, EW130, EW170, MX135WS/LS, MX175WS, MX225LS, MX255LS, MX295LS, MX365LS, MX455LS, MX55/W, SE130LC-3, SE130W-3, SE170W-3, SE210LC-3, SE240LC-3, SE280LC-3, SE360LC-3, SE460LC-3, SE50-3, EC700C |
| YUCHAI | YC15, YC18-2, YC18-3, YC25-2, YC30-2, YC35, YC45-7, YC55, YC60-7, YC65-2, YC85, YC135 |
Write your message here and send it to us
Products categories