Sorting Grab
Product Detail
Product Fits
Product Tags
Main features:
1) Using Q345 manganese plate steel, high strength, and corrosion resistance.
2) The pin is made of 42CrMo alloy steel, with butt-in oil passage, high strength, and good toughness.
3) Rotary motor imported from Switzerland.
4) The oil cylinder adopts honing tube, imported HALLITE oil seal, short working cycle, and long life.
Application:
All kinds of large-scale, bulk materials loading and unloading or handling operations.
Sorting Grab

 Item/Model

Unit

RSSG04

RSSG06

RSSG08

RSSG10

 Suitable Excavator

ton

6-12

12-18

18-25

25-32

 Weight

kg

470

1050

1370

1700

Operating Capacity

m*

0.60

0.60

0.80

1.00

A

mm

1730

2175

2700

3300

B

mm

960

1200

1500

1880

C

mm

595

745

935

1160

H

mm

1350

1700

2100

2650

H1

mm

1570

1970

2400

3080

Driving Pressure

bar

300

300

300

300

 Driving Flow

Ipm

180-230

180-230

200-250

250-300

                                       Rotating Motor

Set Up Pressure

bar

120

120

120

120

 Motor Flow

lpm

30

30

30

30

 Frequency

r/min

16-18

16-18

16-18

16-18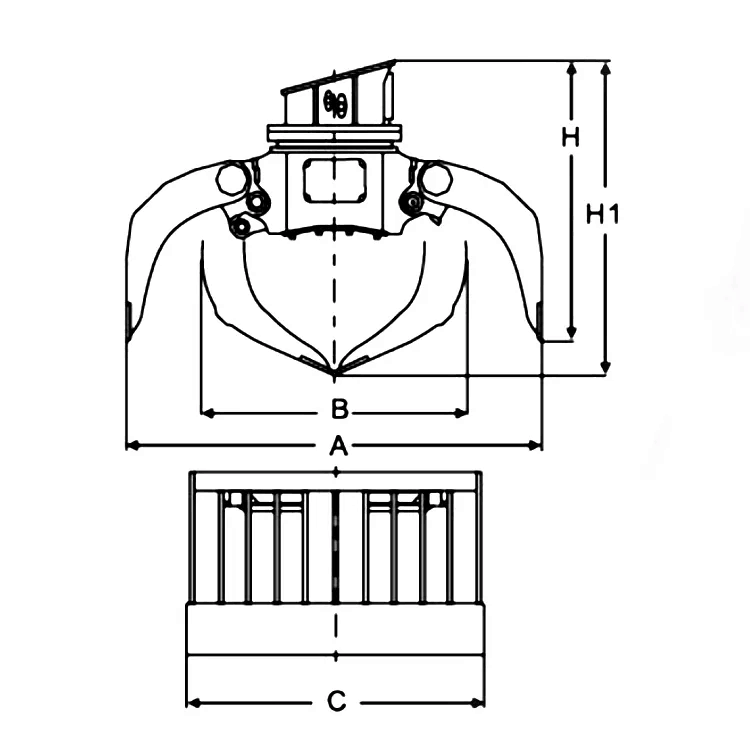 ---
Previous:
Excavator 4in1 Bucket
Next:
Mobile Scrap Shear
---
| | |
| --- | --- |
| BRAND | MODELS |
| CASE | CX130, CX130B, CX135SR, CX17B, CX160B, CX210B, CX225SR, CX240B, CX27B, CX290B, CX31B, CX330B, CX350B, CX36B, CX460, CX50B, CX75SR, CX80, 9050B, CX31B, C, 36B, CX25, CX31, CX36 |
| HITACHI | EX27, EX35, EX100, EX120, EX130, EX135, EX200, EX210, EX220, EX230, EX300, EX370, EX400, EX550, EX55UR-3, EX58, EX60-1, EX700, EX750, EX75, EX80U, EX90, ZX110, ZX120, ZX135US, ZX140W-3, ZX160, ZX17U-2, ZX180LC-3, ZX200, ZX210, ZX225, ZX230, ZX240LC-3, ZX250LC-3, ZX270, ZX30-U2, ZX330, ZX35U, ZX40U, ZX400-3, ZX450-3, ZX50-2, ZX50U-2, ZX60, ZX600, ZX650-3, ZX60USB-3F, ZX70, ZX70-3, ZX75US, ZX80, ZX80LCK, ZX800, ZX850-3 |
| JCB | 2CX, 3C, 3CX, 4CX, 8018, JCB8040 |
| JOHN DEERE | JD120, JD160, JD200, JD240, JD270, JD315SJ, JD330 |
| KOMATSU | PC10, PC100, PC110R, PC120, PC1250, PC130, PC135, PC138, PC150-5, PC160, PC200, PC220, PC228US, PC270, PC300, PC360, PC400, PC450, PC550, PC650, PC1000, PC1200 |
| KUBOTA | KU45, KX-O40, KX080-3, KX101, KX121, KX151, KX161, KX41, KX61, KX71-2, KX91, KX61-2S, KX91-3S |
| CATERPILLAR | 302.5C, 303, 304, 305, 307, 308, 311, 312, 314, 315, 320, 322, 324DL, 325, 328D, 329D, 330, 330B, 330C, 330D, 330E, 330GL, 336D, 345, 345CL, 345F, 350, 416, 420, 428 |
| DAEWOO | S015, S035, S130, S140, S175, S180, S210, S220, S225, S280, S290, S300, S320, S330, S340LC-V, S35, S370LC-, S400 |
| DOOSAN | DX27, DX35, DX140, DX140W, DX180LC, DX225LC, DX255LC, DX300, DX340LC, DX420LC, DX480LC, DX520LC, DX55/60R, DX80 |
| HYUNDAI | R110-7, R120W, R130, R140, R145, R15, R16, R160, R170, R180, R200, R210, R220LC, R235, R250, R280R290, R320, R35, R350, R360, R380, R420, R450LC, R480LC-9, R500, R520, R55, R60CR-9, R75-5, R80 |
| KOBELCO | SK025, SK027, SK030, SK032, SK035, SK040, SK045, SK050, SK070, SK075, SK100, SK120, SK125, SK135, SK140, SK170, SK200, SK210, SK220, SK225SR-2, SK235SRLC, SK250, SK300, SK30, SK320, SK330, SK350, SK400, SK480 |
| LIEBHERR | 922,924 |
| SAMSUNG | SE130LC, SE200, SE210LC, SE280LC, SE350LC |
| SUMITOMO | SH120, SH125X-3, SH135X, SH160-5, SH200, SH210, SH220, SH225, SH240, SH300, SH450 |
| VOLVO | EC140, EC145C, EC160, EC180C, EC210, EC240, EC290, EC330, EC360, EC460, EC55, EC88, ECR58, ECR88, EW130, EW170, MX135WS/LS, MX175WS, MX225LS, MX255LS, MX295LS, MX365LS, MX455LS, MX55/W, SE130LC-3, SE130W-3, SE170W-3, SE210LC-3, SE240LC-3, SE280LC-3, SE360LC-3, SE460LC-3, SE50-3, EC700C |
| YUCHAI | YC15, YC18-2, YC18-3, YC25-2, YC30-2, YC35, YC45-7, YC55, YC60-7, YC65-2, YC85, YC135 |
Write your message here and send it to us