Standard Bucket
Product Detail
Product Fits
Product Tags
GP (general propose) bucket also known as a standard bucket, is one of the most common attachments for excavators for digging and loading.
Applied Size: Suits 1 to 50 tons' excavator. (Could be customized for larger tonnage).
Characteristic: The tapered design increases the depth of the bucket, creating more efficient loading capacity. And during work, the side cutters on each side could do a good job in protecting the frame.
Application: GP buckets could perform well in general clay excavation related to sand, soil, gravel loading, and other lightwork occasions.
RanSun has four types of bucket, standard bucket, heavy-duty bucket, rock bucket, and heavy rock bucket. We offer a full range of buckets for machines from 0.1m3 to 12m3 in bucket capacity for a large variety of applications. The applications include light and general construction, road, and rail construction as well as quarrying and mining industries.
Excavator Bucket

 Type

 Capabilit

 Working Environment

Standard bucket 

Plate of standard thickness and parts with high quality (teeth, adaptor, and side cutters)

For normal digging and loading activities of clay, sand or other soft materials with little or no debris or large rocks. Optimal shape guarantees excellent digging properties and large capacity.

Heavy-duty bucket

Thicker plate and higher quality parts(teeth, adaptor, and side cutters). With reinforced plates on the bottom and two sets of protective plates on both sides. 

Stronger than the GP backhoe bucket, HD bucket is for heavier digging and spading in hard and slightly rocky soil.




Suitable for - paving, tarmac, light breaking, demolition activities, etc.




The robustness and resistance allow it to work against high strength materials.

Rock bucket

Thicker plate and parts with higher quality(teeth, adaptor, side cutters, teeth shroud, and flanges). With reinforced plates on the bottom, reinforced lines in front, and two sets of protective plates on both sides. 

Suitable for comparatively heaviest working conditions in rocky types of soil and demolition work.




Its optimal shape allows the ability to effortlessly pick up large rocks, and the most durable steel gives it the very robustness and extremely strong design




It's wear-resistant, except when it's under an extreme construction condition.

HD Rock Bucket

Thickest plates and parts (rock teeth, adapter, double side




protectors, lip protectors, side wear-resistant block, inside reinforced liners, heel shrouds, wear-resistant balls on both sides of the bucket, and wear resistant plates on the bottom).

With greater wear-resistance and strength than the buckets above, HD rock bucket suits the most extreme construction conditions and owns the longest service life of a few years.




It's required in these works below (included but not limited to):




Paving, tarmac, heavy breaking, and demolition activities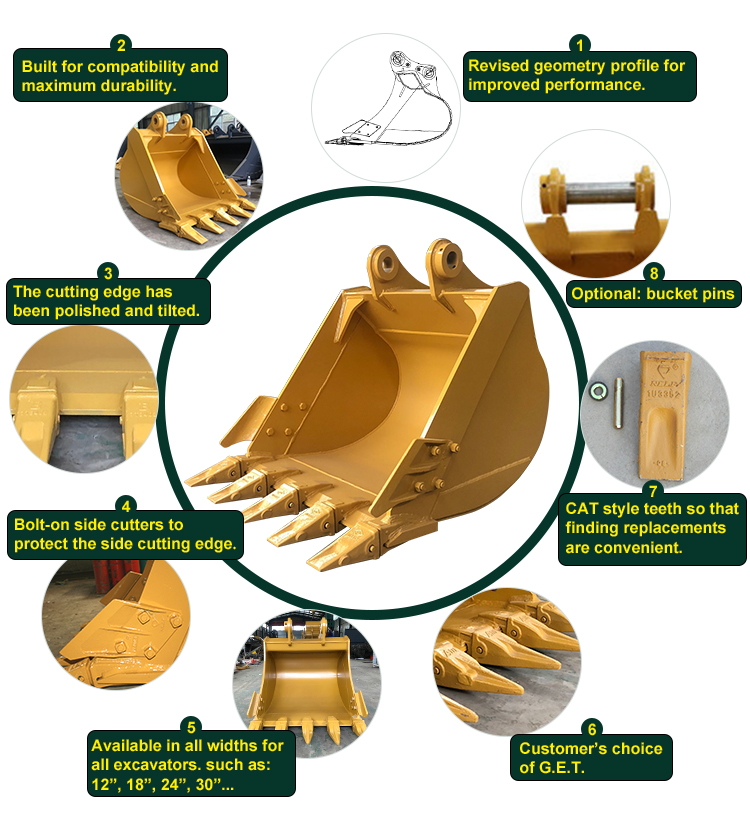 ---
Previous:
Rotating Screening Bucket
---
| | |
| --- | --- |
| BRAND | MODELS |
| CASE | CX130, CX130B, CX135SR, CX17B, CX160B, CX210B, CX225SR, CX240B, CX27B, CX290B, CX31B, CX330B, CX350B, CX36B, CX460, CX50B, CX75SR, CX80, 9050B, CX31B, C, 36B, CX25, CX31, CX36 |
| HITACHI | EX27, EX35, EX100, EX120, EX130, EX135, EX200, EX210, EX220, EX230, EX300, EX370, EX400, EX550, EX55UR-3, EX58, EX60-1, EX700, EX750, EX75, EX80U, EX90, ZX110, ZX120, ZX135US, ZX140W-3, ZX160, ZX17U-2, ZX180LC-3, ZX200, ZX210, ZX225, ZX230, ZX240LC-3, ZX250LC-3, ZX270, ZX30-U2, ZX330, ZX35U, ZX40U, ZX400-3, ZX450-3, ZX50-2, ZX50U-2, ZX60, ZX600, ZX650-3, ZX60USB-3F, ZX70, ZX70-3, ZX75US, ZX80, ZX80LCK, ZX800, ZX850-3 |
| JCB | 2CX, 3C, 3CX, 4CX, 8018, JCB8040 |
| JOHN DEERE | JD120, JD160, JD200, JD240, JD270, JD315SJ, JD330 |
| KOMATSU | PC10, PC100, PC110R, PC120, PC1250, PC130, PC135, PC138, PC150-5, PC160, PC200, PC220, PC228US, PC270, PC300, PC360, PC400, PC450, PC550, PC650, PC1000, PC1200 |
| KUBOTA | KU45, KX-O40, KX080-3, KX101, KX121, KX151, KX161, KX41, KX61, KX71-2, KX91, KX61-2S, KX91-3S |
| CATERPILLAR | 302.5C, 303, 304, 305, 307, 308, 311, 312, 314, 315, 320, 322, 324DL, 325, 328D, 329D, 330, 330B, 330C, 330D, 330E, 330GL, 336D, 345, 345CL, 345F, 350, 416, 420, 428 |
| DAEWOO | S015, S035, S130, S140, S175, S180, S210, S220, S225, S280, S290, S300, S320, S330, S340LC-V, S35, S370LC-, S400 |
| DOOSAN | DX27, DX35, DX140, DX140W, DX180LC, DX225LC, DX255LC, DX300, DX340LC, DX420LC, DX480LC, DX520LC, DX55/60R, DX80 |
| HYUNDAI | R110-7, R120W, R130, R140, R145, R15, R16, R160, R170, R180, R200, R210, R220LC, R235, R250, R280R290, R320, R35, R350, R360, R380, R420, R450LC, R480LC-9, R500, R520, R55, R60CR-9, R75-5, R80 |
| KOBELCO | SK025, SK027, SK030, SK032, SK035, SK040, SK045, SK050, SK070, SK075, SK100, SK120, SK125, SK135, SK140, SK170, SK200, SK210, SK220, SK225SR-2, SK235SRLC, SK250, SK300, SK30, SK320, SK330, SK350, SK400, SK480 |
| LIEBHERR | 922,924 |
| SAMSUNG | SE130LC, SE200, SE210LC, SE280LC, SE350LC |
| SUMITOMO | SH120, SH125X-3, SH135X, SH160-5, SH200, SH210, SH220, SH225, SH240, SH300, SH450 |
| VOLVO | EC140, EC145C, EC160, EC180C, EC210, EC240, EC290, EC330, EC360, EC460, EC55, EC88, ECR58, ECR88, EW130, EW170, MX135WS/LS, MX175WS, MX225LS, MX255LS, MX295LS, MX365LS, MX455LS, MX55/W, SE130LC-3, SE130W-3, SE170W-3, SE210LC-3, SE240LC-3, SE280LC-3, SE360LC-3, SE460LC-3, SE50-3, EC700C |
| YUCHAI | YC15, YC18-2, YC18-3, YC25-2, YC30-2, YC35, YC45-7, YC55, YC60-7, YC65-2, YC85, YC135 |
Write your message here and send it to us